File menu
The File menu includes various commands for controlling the software, saving or opening results, scanning the network for MAC addresses.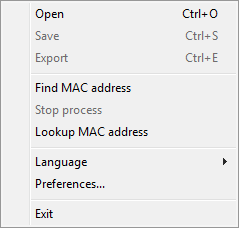 Open — Load previously saved scan results from XML.

Save — Save the scan results to XML.

Export — Export the scan results to the format that can be read by other applications.

TXT — Notepad or another text editor;

CSV — Excel or another software for working with worksheets;

RTF — WordPad, Microsoft Word or another editor;

HTML — Internet Explorer, Firefox, Opera or another web browser.

Find MAC address — Start the process of scanning and finding the MAC addresses of computers according to the parameters specified in the Panel Target and Method groups.

Stop process — Stop the process of scanning and finding the MAC address, since multiple threads are used during the process, it is stopped not immediately, but in a few seconds.

Language

— Select the language of the software interface

1)

.

Preferences — Open the Preferences dialog box.

Exit — Exit the program.
---