Wi-Fi Scanner 4.0 is available for downloading
May 08, 2018
We are pleased to announce that we have released LizardSystems Wi-Fi Scanner 4.0. In this release, we have made several improvements to Wi-Fi Scanner. We have developed a new filter for wireless networks by channel width (20MHz, 40Mhz, 80MHz, 160MHz, 80+80MHz). We have slightly changed 802.11n channel naming convention. Now Wi-Fi Scanner uses a short form of 802.11n channel names (e.g. 36,+1 or 40,-1), for more information please read this article https://lizardsystems.com/wi-fi-scanner/articles/80211n-and-80211ac-channels-naming-conventions/. Also, 802.11ac 144 channel support has been added to the program, please read this note https://lizardsystems.com/wi-fi-scanner/articles/80211ac-144-channel-support/.
Additionally, we have added several options to the program:
Auto-delete network if it is not seen after specified time.
Connected network is automatically pinned to the top of network list.
Ability to display 2.4 GHz and 5GHz bands on one panel (vertically or horizontally).
Please inspect Wireless networks tab on Preferences window to review and change these options.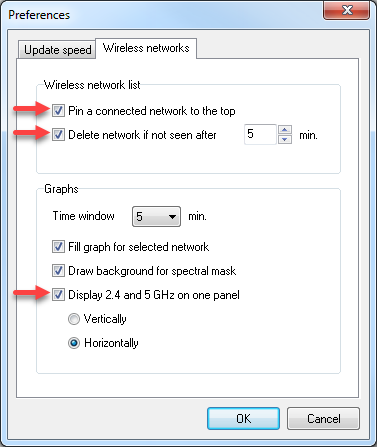 MAC vendor list has been updated and number of network card vendors is increased to 24 826.
The new version of Wi-Fi scanner available for downloading at the program page https://lizardsystems.com/wi-fi-scanner/