Does LizardSystems Wi-Fi Scanner Support 802.11ax?
IEEE 802.11ax - The next generation of Wi-Fi standard, also known as Wi-Fi 6, is the next step in the evolution of wireless technology. 802.11ax (Wi-Fi 6) gets all the best from its predecessor 802.11ac (Wi-Fi 5), and increases throughput by 4 times and adds network scalability.
Does LizardSystems Wi-Fi Scanner Support 802.11ax?
Wi-Fi Scanner supports 802.11ax standard since version 5 (November 2020).
You may view 802.11ax networks on the "Scanner" tab.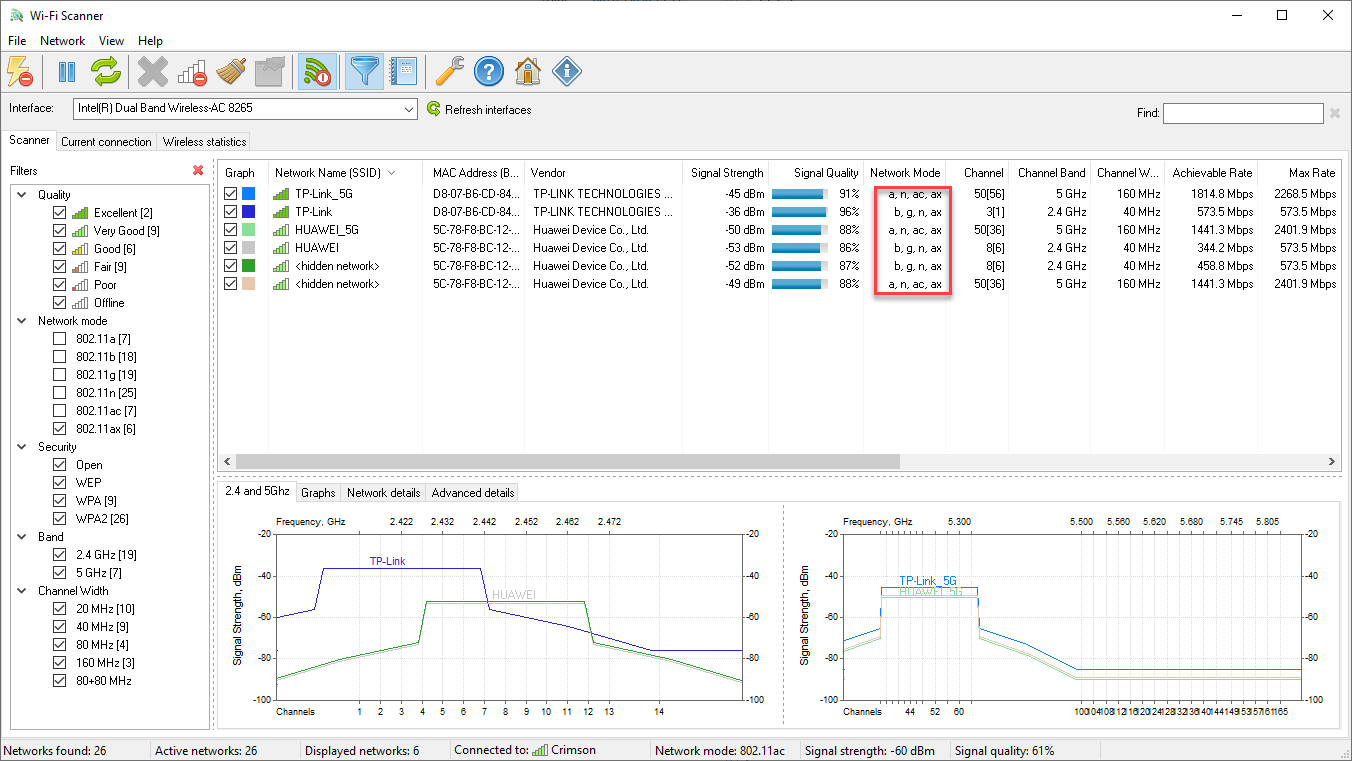 Wi-Fi Scanner may filter networks by 802.11ax mode.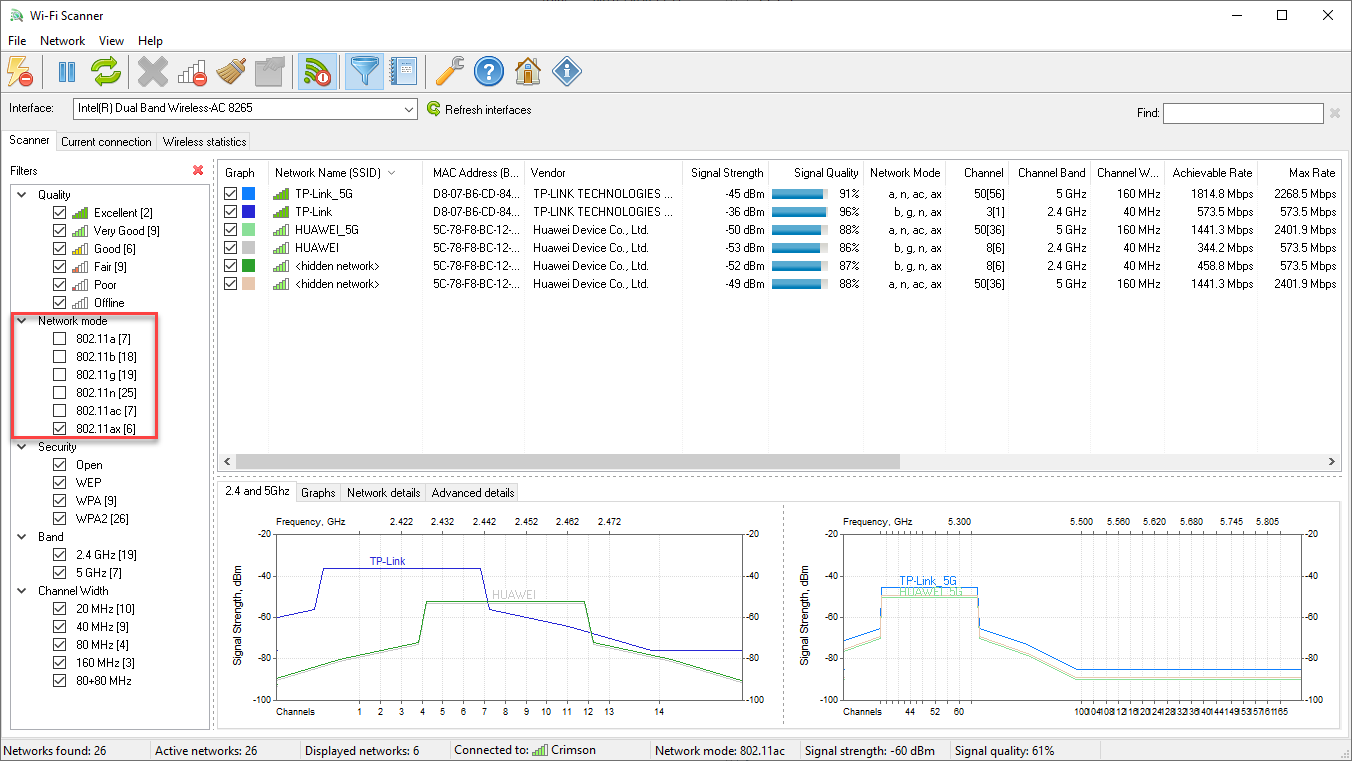 Wi-Fi Scanner may parse 802.11ax (HE) Information elements:
HE Capability element
HE Operation element
UORA Parameter Set element
Spatial Reuse Parameter Set element
MU EDCA Parameter Set element
You may see an information at the bottom of Scanner tab on Advanced Information tab.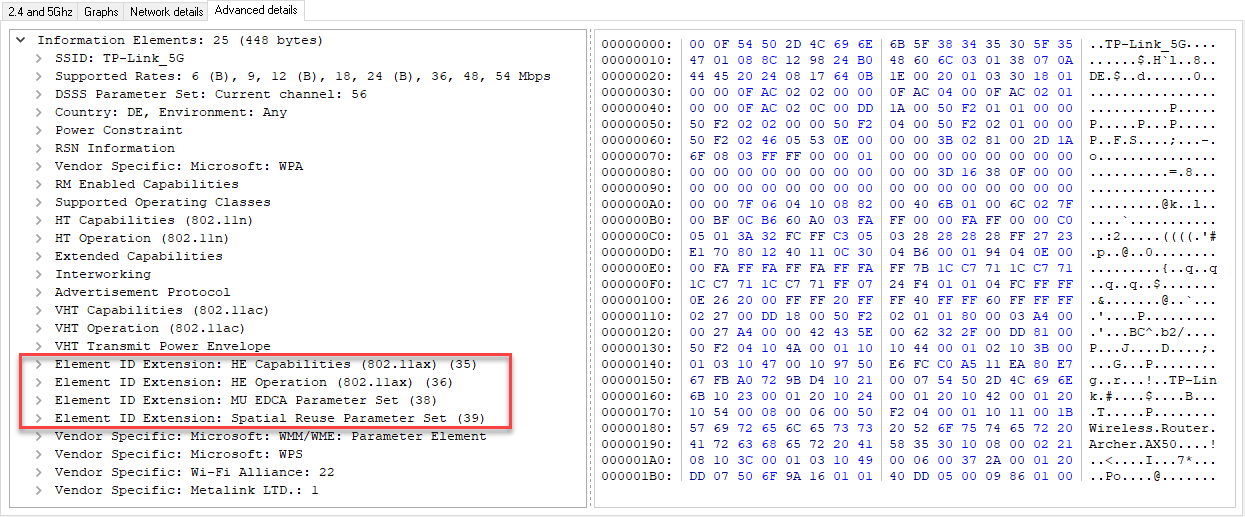 These Information Elements contain all information about the 802.11ax settings; for example, at the picture below you may see Channel Width settings.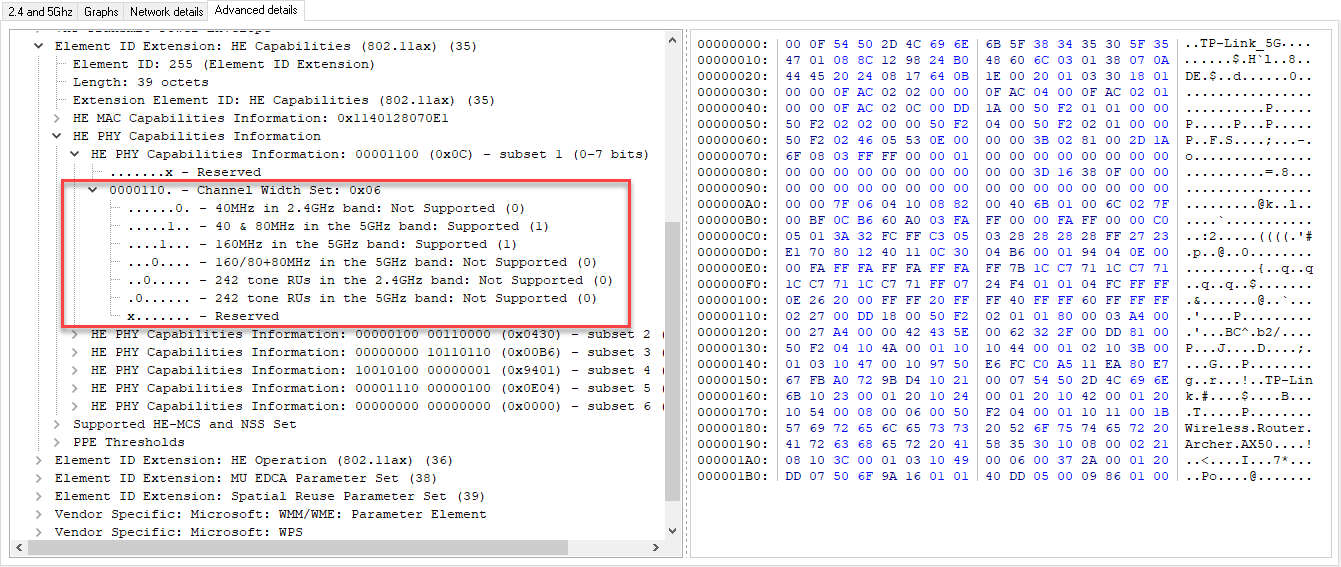 Wi-Fi Scanner calculates Max, Min Rate and all supported rates, that you may find on the Network details tab.

Do I need an 802.11ax WiFi adapter?
802.11ax is backward compatible with 802.11a/b/g/n/ac standards, so any dual-band Wi-Fi adapter can discover 802.11ax networks. If your adapter supports 2.4 GHz only you may see 802.11 ax networks but in 2.4 GHz range only.
Wi-Fi Scanner successfully recognizes 802.11ax in scanner mode ("Scanner" tab) even if operating system does not support 802.11ax. However, for 802.11ax successfully recognizing on "Current connection" and "Wireless statistics" tabs requires a wireless adapter with support for 802.11ax and Windows 10 (Version 2004) or newer.
How do I know if my adapter supports 802.11ax?
You may check if your adapter supports 802.11ax by opening a command prompt and typing netsh wlan show drivers.
Look next to Radio types supported and see if it includes 802.11ax.
Similar articles