A Task Manager for Remote PCs
Are you a system administrator managing multiple computers over a local area network? Leaving Windows Assistance and Remote Desktop Protocol alone, how do you deal with "Application Not Responding" windows on users' PCs? Using Windows Task Manager to terminate stalled processes on a user's computers is surely possible, but requires either physical access to the PC or logging in with RDP or Windows Assistance, which is not always an option.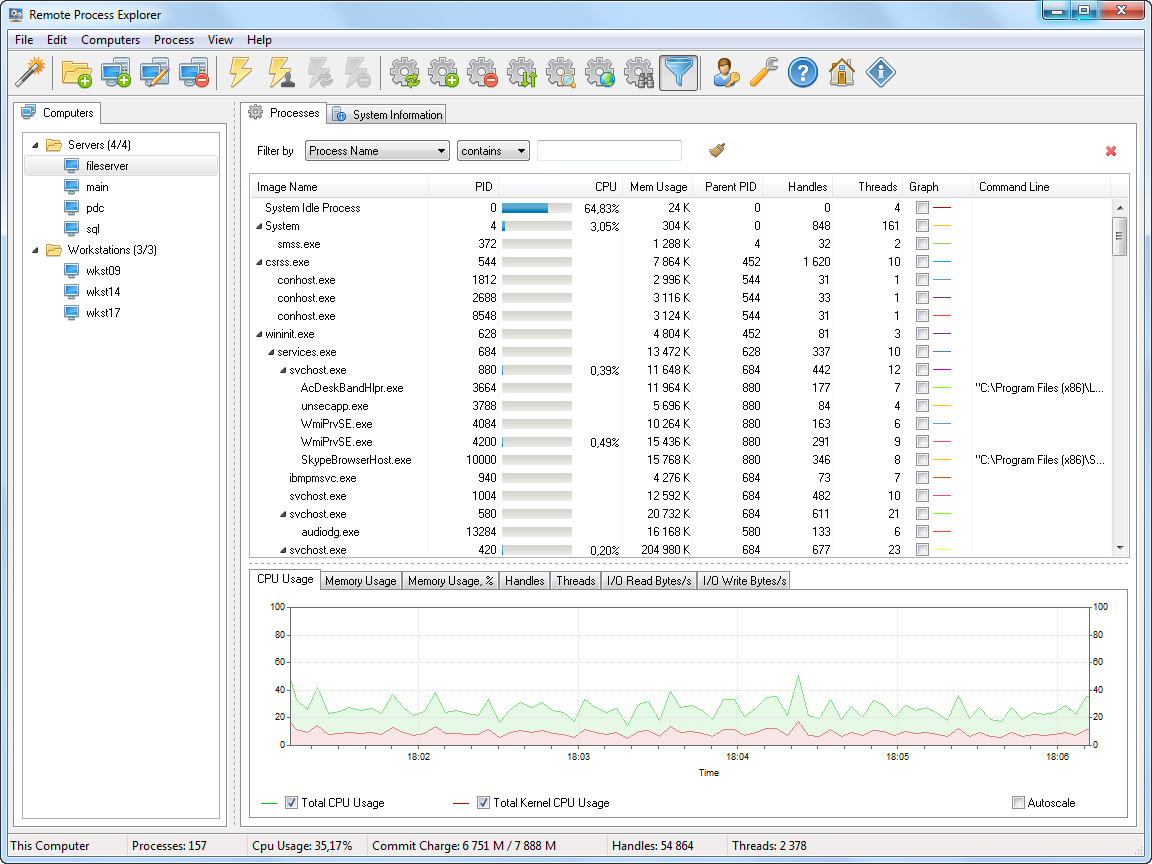 Remote Process Explorer, a product by LizardSystems, makes it possible to manage remote processes on remote computers without installing anything on them or launching an RDP session. This new tool beats Windows Task Manager feature-by-feature, replacing it with a much more advanced product – at no charge for personal use.
Monitor all local and remote processes through a single user interface and access vital information about processes such as Process ID, Parent PID, Priority, Handles, Threads, and much more, in real-time. The product displays complete information about every local and remote process, including owner information, CPU time and memory consumption, path to executable file, and much more.
Not sure if a particular process a user complains about is malware? For a bit of extra security, Remote Process Explorer allows looking up processes over the Internet, retrieving additional information and reporting about known malware.
Launch, terminate or change priority for any process running on either local or remote PC. Remote Process Explorer shows processes in the form of a process tree, allowing easy navigation among processes and their dependencies. It's easy to terminate all processes with a given name if the need arises. Do everything that's possible with Windows Task Manager on local and remote PCs!
There is no need to install Remote Process Explorer or any third-party software on every system on your network. Remote Process Explorer runs from a single server, and controls remote PCs securely and reliably. You can shutdown and reboot remote computers given that you have sufficient privileges.
Remote Process Explorer retrieves the list of available network computers and keeps it updated completely automatically. To speed up operation, the product keeps a cached list of remote PCs locally. The combination of cached and actual lists of networked computers allows Remote Process Explorer to display all computers on the network whether they are turned on or off.
Replace the standard Task Manager with a sophisticated product, and start controlling remote processes without leaving your chair! It's free for personal use, so download your copy of Remote Process Explorer now!
Similar articles