If you select this checkbox, the program will update the state of computers (on/off) using the specified time interval. The state of computers is checked with the methods selected in the properties of each computer. If you do not select this checkbox, all computers in the list will be shown as active (on).
Process list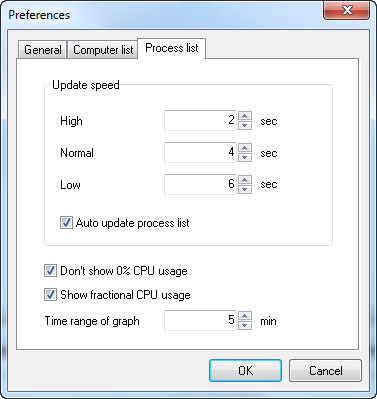 You can specify the process list preferences on this tab.
Update Speed - You can use this section to set update intervals for the process list. The values are specified in seconds and show the interval between attempts to update the process list. If your network bandwidth is low, you should reduce these values.

Auto update process list - If you clear this checkbox, the process list will not be updated automatically. In this case, you will have to update the list manually using the "Refresh processes" command.

Don't show 0% CPU usage - CPU usage is not shown for the process with 0% CPU usage

Show fractional CPU usage - CPU usage is shown with fractional part

Time range of graph - Time range of graph could be changed
If you click OK, you will apply all the specified preferences.